Regular price
$99.95 USD
Sale price
$29.95 USD
Unit price
per
Sale
Sold out
Calming Clarity is the perfect scented candle for creating a sense of peace and relaxation in any room. With its soothing blend of white tea, eucalyptus, and citrus, this candle will fill your home with a light and airy aroma that will help you to clear your mind and bring clarity to your thoughts. Light this candle and let it fill your home with serenity and tranquility.
But wait.. there's more! Inside every candle there is a mystery gemstone!
1 out of every 3 mystery gems are a ruby, sapphire, emerald, or diamond!
You will receive one of the following gemstones in every scented candle:
Alexandrite, Amethyst, Aquamarine, Citrine, Chrysoberyl, Diamond, Emerald, Garnet, Jade, Morganite, Opal, Pearl, Peridot, Ruby, Sapphire, Spinel, Tanzanite, Topaz, Tourmaline, Zircon.
Materials

Every candle is made with 100% natural soy wax and plant based scents. This paired with a 100% natural cotton wick ensures a clean and smokeless burn.
Care Instructions

Remove packaging before burning. Burn in proper holder. Keep wax pool free of debris. Stop burning when 1/2" unmelted wax remains. Trim wick to 1/4" each time candle is lit. Aviod drafty areas.

Each candle contains 7.75 Oz | 220 G of wax which gives an approx burn time of 50 hours if burned correctly.
Share
View full details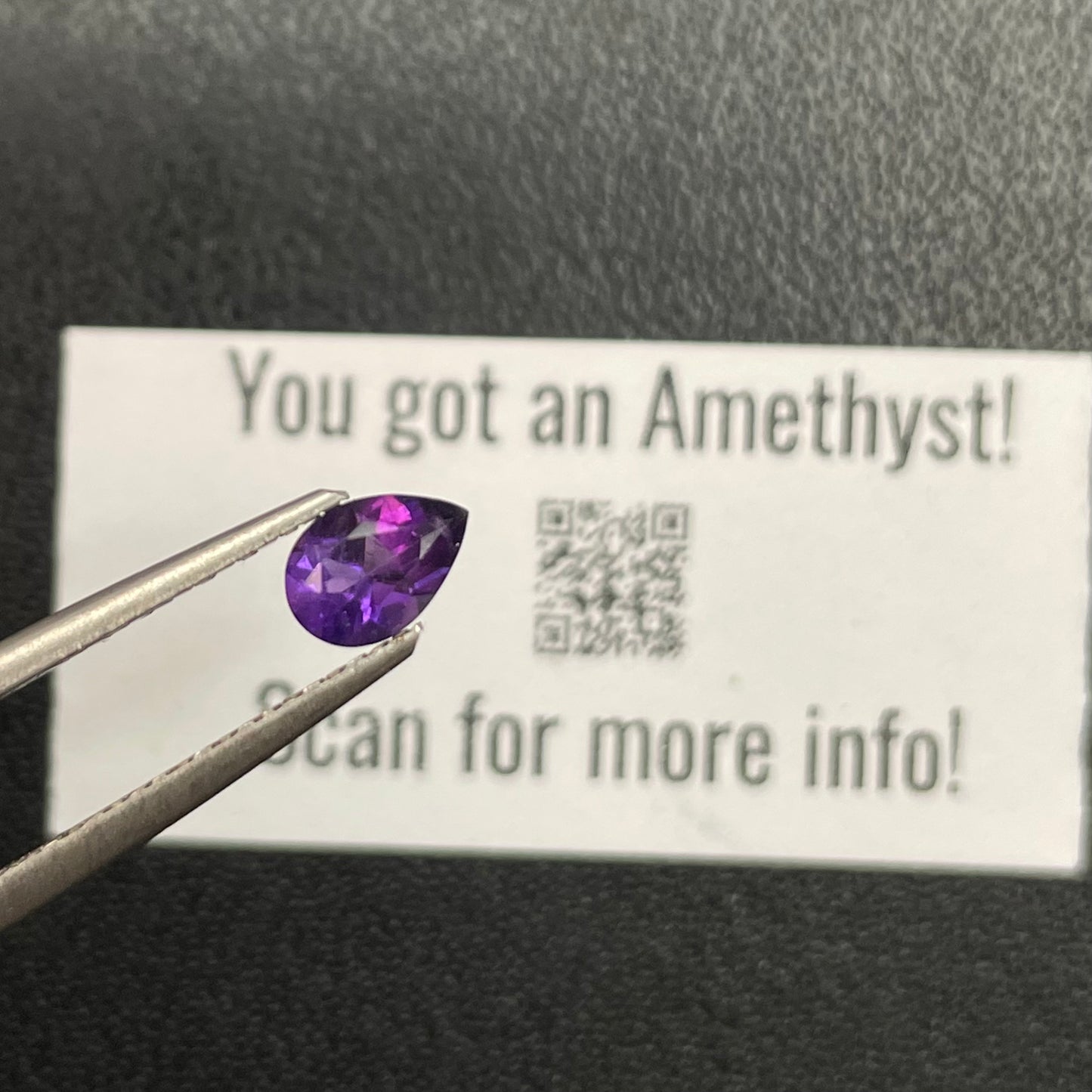 Scent
Nice scent and excited to eventually find gemstone
Nice smell
Great smelling and I got a ruby!!!
Nice surprise!
I loved my candle! I got blue topaz in it! I wish it was a little more fragrant but I'll definitely buy again!
Gem Candle
The candle smells wonderful. The gem inside was a sapphire. It is a low grade, but I didn't expect anything of high value, due to the price of the candle. I couldn't get the bar code to work, it is too small for my phone to get it and when I zoom in, all it does is take a picture of it. It was worth the price and fun to watch the candle burn down to get the gem.
Unbelievable fragrance!
I wanted to buy this at first because I thought the concept was amazing. I have been interested in gems and wanted an inexpensive excuse to buy one. Not only did this satisfy that, but I was blown away by the beautiful scent of this candle. Will definitely buy more and try out new scents!
How It Works!
Step 1. Burn candle according to care instructions.
Step 2. Wait until the foil wrapped capsule is exposed, blow out the candle and wait for capsule to cool.
Step 3. Remove the capsule from candle with tweezers and unwrap the foil to discover your unique gem.
Step 4. Scan the QR code to learn more about your hand-picked natural gem!